Botanist
From Official Wiki of the Renaissance Kingdoms
The botanist's workshop is a choice after your character achieved the level 25.


To work in the workshop, you need:
Your character will have a bonus on the Production time of products if he has:
Skills "Flower grower" and "Nursery Owner" (Reduces the growing time).
Intelligence points (Reduce Production time from 0 to 20%).
Predilection virtue of "Self-giving" (Reduce Production time from 0 to 9,5%).


Remark :

At the end of the work, objects produced can be found in the invnetory of your home.


Skill tree
It needs 20 skill points to complete this tree.


3D workshop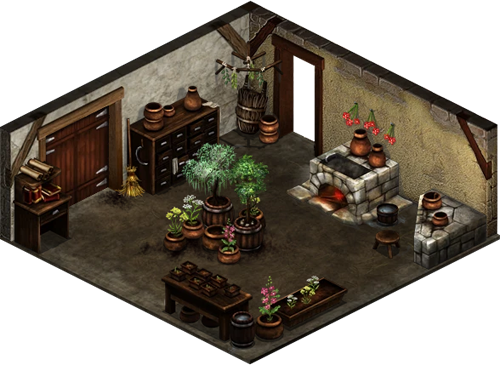 Possible productions
These recipes are available only upon reading the corresponding How To Guide.


Basic
The recipes are given for minimal figures and characteristics.

Detail of different trees and plants harvested, their growing time and their optimal watering periodicity is given in the culture of the botanist's workshop.


---
---