Wall tapestry
From Official Wiki of the Renaissance Kingdoms
| | | |
| --- | --- | --- |
| | | 3D furnishing that can be placed inside. Quite nice to look at. Produced by a weaver. Prosperity: +3. Copy limit: 2. |
The wall tapestry is:
It can be sold or bought on the market of village between 20.00 and 35.95 pounds.


It represents a weight of 0.


It takes up a 2x2 space on the wall and 2x1 space on the floor.


It brings a prosperity of 3 with a copy limit of 2.


Note:

Details of how it is made can be found in the weaver's workshop.
A new furnishing was created in order to make a difference with the tapestry, the luxury good.
All owners of a pre-update tapestry received a wall tapestry as a gift.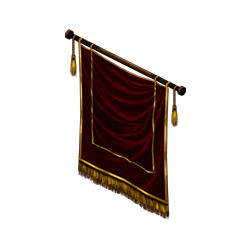 ---
---