Clothes and Equipment
From Official Wiki of the Renaissance Kingdoms
Your Clothes and Equipment is available in the Me page of the main menu, and it's where you can change at your will which clothes, pet animals, weapons and equipped items you wish for your character to be wearing.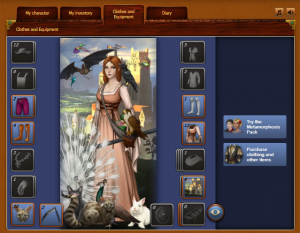 After clicking to use your clothes or gear from My Inventory, you can head to Clothes and Equipment to choose what to wear at any time.
The categories include:
Hats and helmets;
Aprons and vests;
Pants and skirts;
Shoe wear;
Necklaces;
Left-hand and right-hand items;
Pets;
Weapons;
Robes and coats;
Shirts and corsets;
Hoses;
Outfits;
Braids and collars, Belts, Masks, Gloves;
Backgrounds;
Equipment items;
Shields
You can choose freely your wear within each category. You can only use one weapon at a time, but the rest of the Clothing items are stackable, so the limit is your imagination.